Karen Nixon has run the stud since it's inception, having now built it to 4 Shetland stallions, 40 brood mares and currently 10 riding ponies which compete in performance award schemes - Shetland Pony Grand National, CHAPS, Mountain & Moorland, Working Hunter, First Ridden, etc.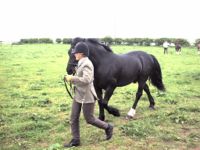 Karen has worked with horses since before leaving school, helping run the family livery and dealing yard. She has ridden competitively since the age of nine, initially BSJA showjumping upto JA level - Hickstead, Christy Beaufort, Foxhunter and Open competitions. This was followed by senior showjumping, schooling youngsters and bringing on novices upto International Grade A and Young Riders. Karen also showjumped the family Welsh Cob Section D stallion to Open classes whilst also showing him in-hand and under saddle - he also bred very many good youngsters during this time - he is now 23 years young.

Over the past few years Karen has had many successes with the stud including - past 4 years Shetland Pony Grand National finals at Olympia; NPS WHP finals at Great Malvern; two piebald ponies in CHAPS finals at Wembley including best Shetland / Small Native 1998. Whilst all this is going on Karen finds time to successfully show her Welsh Cob gelding under saddle, having won 4 NPS silver medals and area NPS Welsh Large Breeds Champion.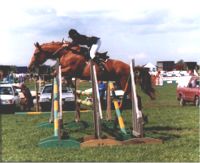 Karen also teaches children aged between 4 and 15 years of age, six days a week. Once the pupils are sufficiently experienced they are given the opportunity to compete on one of the ponies - Shetlands, New Forest or Welsh Section C or D.

Karen is now on the Senior Panel of the Shetland Pony Stud Book Society Judges Panel where she judges from foals to senior ponies both ridden and in-hand. She is also a fully-fledged judge with CHAPS(UK).