Shetland Pony Grand National
Racing Dates:
| | |
| --- | --- |
| Heathfield Show (qualifier) | 24th May 2008 |
| North Yorkshire County Show (qualifier) | 15th June 2008 |
| Newbury Racecourse evening meeting (qualifier) | 24th June 2008 |
| Cumberland Show (qualifier) | 19th July 2008 |
| New Forest Show (qualifier) | 29th - 31st July 2008 |
| Gatcombe Horse Trials (qualifier) | 2nd - 3rd August 2008 |
| Ellingham Show (qualifier) | 9 August 2008 |
| Stanhope Agricultural Show (qualifier) | 14th September 2008 |
Display Dates:
| | |
| --- | --- |
| Badminton Horse Trials | 3rd May 2008 |
| Royal Windsor | 7th - 10th May 2008 |
| Epsom Trainers Open Day | 20th July 2008 |

The Shetland Pony Grand National is a popular attraction at any show or event, entertaining both young and old alike. Crowds cheer on their favourite steed as the ponies fly over the 'mini' Aintree fences; all determined to be first past the post. Jockeys are all aged between nine and fourteen and dress as their real counterparts in approved skull caps, body protectors and owners silks.


The build up to each race is much the same as the real 'Grand National'; ponies are paraded; jockeys mount and are led down to the start before being sent on their way. In some cases a 'bookmaker' will give prices and encourage spectators to make their favourite selection. As the race is real and the pace frantic, a race commentator keeps the cheering crowds informed of race positions.

Since it's inception The Shetland Pony Grand National has raised over £250,000 for various charities. If a show or event is raising funds for a particular charity The Shetland Pony Grand National is able to race for their cause on that day.

All of the ponies and children who race are active members of the Shetland Pony Stud Book Performance Awards Scheme. All have to compete for a year prior to racing in a variety of disciplines including showing, dressage, cross-country and gymkhana.

Throughout the summer, races are held across the country with some shows staging qualifier races where a number of ponies contest for a place at the prestigious Olympia International Horse Show at Christmas. Individuals or companies sponsor all ponies at Olympia. There are opportunities for sponsors to attend the show, cheer on the ponies from the'Paddock'and participate in end of race jubilation should their pony win.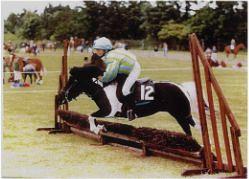 There are many PR opportunities for sponsors and shows alike. In recent years media coverage has been gained in local, regional and national newspapers, Country Life, The Racing Post, Sky Television, 'The Big Breakfast'and 'Horse Tales', a 30 minute independent production video following the preparation of a pony racing at Olympia which has been shown on Channel 4.

Many of the young jockeys continue to ride after their Grand National days making their career with horses. To name but a few; James Crowley is now a professional jockey currently riding for Sue and Harvey Smith. Simon Humphries has also gone 'under rules'and is a National Hunt jockey and Francis Whittington has been a member of the British Junior 3-day event team.

Individuals who race in The Shetland Pony Grand National travel to shows from all over the country and devote a great deal of time and enthusiasm to the racing. The organisers of the racing are supported by a dedicated team of volunteers to ensure that all performances are run in a safe but spectacular manner!

Mrs Pat Renwick retired from Shetland Grand National at Christmas 2004 after a very long and happy association with it.